Toowoon Bay SLSC's aim is to train and educate our active patrolling members to the highest standard, providing opportunities for skills based development to effectively patrol our beach.
The education and training teams at both Toowoon Bay SLSC and Surf Life Saving Central Coast Headquarters provide opportunities for members to constantly add new skills and increase their capabilities as an active patrolling member.
COVID-19 Please refer to the NSW Government COVID Site – nsw.gov.au/covid-19 for up to date information.
When not to attend SLS Activities – COVID-19:
Have any symptoms (ie fever, sore/scratchy throat, shortness of breath or loss of taste/smell)
Have been in close con)tact with someone who has tested positive for COVID-19
Have tested positive for COVID-19, please wait until you have been given medical clearance to attend again.
Have travelled overseas, to Victoria or to an area of increased testing (hotspot – and refer to the NSW Government COVID 19 site) in the 14 days prior to any of your training/sls activities.
Please also consider downloading the Federal Governments COVIDSafe App.  The app speeds up contacting people exposed to COVID-19, helping support and protect you, your family and your friends.
Bronze Medallion and Surf Rescue Certificate Courses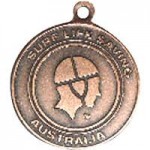 Whats Involved?
To become a surf lifesaver at Toowoon Bay you will need to obtain your Bronze Medallion or Surf Rescue Certificate (SRC) training qualification.  Parents who have children in Nippers are invited to complete Bronze Medallion training to enable them to assist in water safety at Nippers and at carnivals.
The Bronze Medallion is the minimum requirement for an active surf lifesaver, with a minimum age requirement of 15 years.  You will learn all about surf awareness, learn surf skills, survival, patrol proceedures, rescue techniques, resuscitation, defibrillation, first aid, anatomy and physiology.
Before commencing training for the Bronze Medallion, you will be required to complete a 400-metre swim in nine minutes or less, in a swimming pool of no less than 25m or, over a measured open water course. Once this has been completed, qualified instructors provided by the club will train you to the level of a proficient surf lifesaver.
The Bronze Medallion provides you with the skills and knowledge to be an effective member of a patrol team.  Once you have completed your Bronze Medallion, you will be allocated to either a Saturday or Sunday patrol team.
If you are less than 15 years of age, you can obtain your Surf Rescue Certificate.  Probationary surf lifesavers can achieve this award from the age of 13. This award will train candidates in rescue skills, first aid and patient management, resuscitation plus, a theoretical component exploring safety knowledge and surf awareness.  As a pre-requisite candidates must complete a 200m pool swim in five (5) minutes or less.
Bronze Medallion, Surf Rescue Certificate and SRC to Bronze courses have costs involved.
Bronze Medallion course will run for approximately 8-10 weeks.
Surf Rescue Certificate will run for approximately 6-8 weeks.
SRC to Bronze courses run for approximately 4 weeks
Surf Life Saving Awards
Active patrolling members are invited to 'upskill' by completing additional awards, and becoming better qualified.
Some of the courses available include :
This Awards Qualifications Chart (Covers all awards from Junior Awards (Surf Survival, Surf Rescue, Radio Operators) to Public Safety (Bronze, Silver and Gold Medallions) First Aid, Training and Powercraft Awards.
SLSA Member Portal for additional  Awards information, updates, e-learning course content and resources.
SLSA Members Portal Online Courses – How To Guide: – Online Course Guide
Upcoming Courses
Information on our 2019-2020 season courses including costings can be found on the TBSLSC In Club Training Calendar and Trainers and in the Members Portal.  Information on SLSCC run courses can be found on the 2020/21 SLSCC Education Calendar  and the club may cover the cost of these courses for active patrolling members (with the exception of initial Provide First Aid course cost).
Any member (or friends of members) who would like to complete their BM or SRC Award, or any of the courses above, please contact the club's Chief Training Officer Sue Hale by emailing cto.toowoonbayslsc@gmail.com or by contacting the office on 43322411
Yearly Skills Maintenance and Re-qualification of Awards
Bronze, SRC and IRB Crew/Drivers will be done on your second or third patrol of the season and will be organised by your Patrol Captains.
ART (AID) and Spinal will have dates set by the Club, with dates to be advised shortly.
Skills maintenance is required to be completed annually before 31st December of each year.
All members are encouraged to complete all skills maintenance online via their Members Area Account – E-Learning prior to their second patrol as this will speed re-qualification process.  Please remember to bring along a printed copy of the completion certificate, or email a copy to Sue Hale – cto.toowoonbayslsc@gmail.com
For information on how to complete your skills maintenance online, please refer to this guide – SLSA Members Portal Online Requalification's – how to guide as at 22-8-2018